Rehabilitation
Rehabilitation services can be provided for several days, weeks, or months. Our physician-directed rehabilitation services are designed to complement a hospital stay or, in many cases be a substitute for hospitalization. Our dedicated nurses and therapists are trained to help each resident reach their highest potential and improve their quality of life.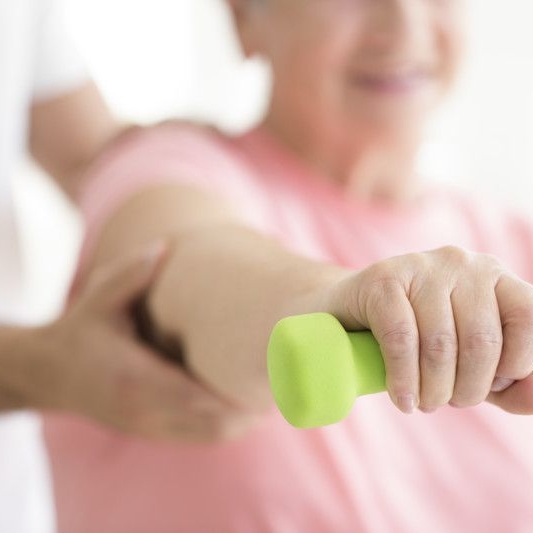 Physical Therapy
Our licensed Physical Therapist focus on improving the coordination, balance, strength, endurance and joint flexibility to achieve optimum levels of functional mobility. Our goal is to advance the resident toward greater independence either unassisted or with an assistive device. Our therapist focus on educating families and residents, education is an integral part of therapy and safety is priority.
Occupational Therapy
Our licensed Occupational Therapist focus on the physical and cognitive capabilities which are needed in activities of daily living. Our therapist devise a patient specific plan with emphasis on balance, strength, perception and cognition.
Speech Therapy
The goal of licensed Speech Therapist is to restore the patients ability to communicate. They work on improving speaking, listening, reading, writing and problem solving skills. Speech Therapist are also able to assess, treat and manage swallowing difficulties.
Conroe Health Care Center was a God sent to me. It's not an easy decision to make in putting your loved one in a rest home, but sometimes you have to do whats best for them and yourself. I truly believe with all my heart that they do a wonderful job in taking care of my husband. When I first brought him here they were concerned about me too and let me know they were here for me too. I was in bad shape. they are my extended family and I so appreciate all they do for him that i finally was not able to do. I feel they care and respect him. That means so very much to me.
Conroe Health Care Center has improved the facilities greatly in the time out mother has been here. The entrance is inviting when you enter, there is not a smell as in other places, it is clean throughout. The head maintenance man is really working to improve the center. He is always willing to help patients in their rooms. Karen Holliday has been very helpful to me where Medicare/Medicaid is concerned. She really knows her stuff. Brooke is always willing to help or just listen to me.
I would like to express my appreciation for the facility and staff. The cleanliness exceeds any other type of institution that I've been in. I have had several friends who were in Skilled Nursing Facilities that weren't anything like Conroe Health Care center.